Entire Facility
Experience the perfect mix of training room, breakout session conference rooms and break/lunch area for your next event.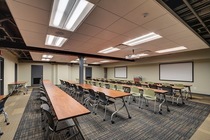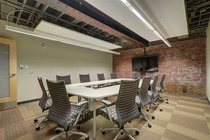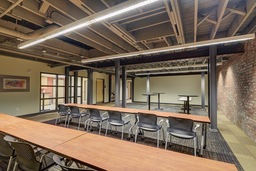 Rental of the entire 1415-The Meeting Space facility includes use of The Training Room, Conference Room A, Conference Room B, Studio and Open Space with kitchenette. The combination of rooms offers just the right mix to accommodate any group. You can customize your event and use The Training Room in conjunction with the other conference rooms located in this meeting facility. Plan break-out sessions in Conference Room A, Conference Room B and the Studio. Use the comfortable catering area with kitchenette and open space for breakfast, lunch or breaks throughout the day.
In addition, there is no additional charge to use the projection system, audio, wall mounted screen monitors, dry erase board, podium and other equipment within the space. The capacity of our space is 55 people seated including speakers.
Types of Events
Corporate event
Multiple day conference
Video conferencing
Training or seminar
Workshop
Small meeting
Conference












Amenities
Comfortably seats 55 people including speakers
Chairs and tables provided
Comfortable, well-lit space
Rental includes use of The Training Room, Conference Room A, Conference Room B, Studio and Open Space area with kitchenette
See individual room pages for full description and list of amenities
Technologies
Wi-Fi with meeting password
High speed internet
Portable Logitech™ camera
Speaker system with clip-on microphones
Digital Media™ Presentation System
Video teleconferencing
Webinar recording
Scanner/printer
Audio conferencing equipment
Laptop Computers